FOR YOUR HOME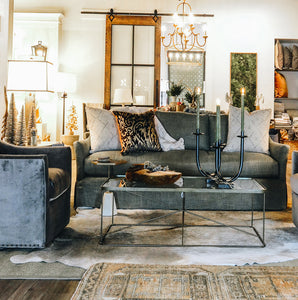 Fine Furnishings
From sofas, to chairs, dining tables, chests, benches and small tables, you will find pieces you can purchase off the floor to take home, or you can spend time with one of our designers on staff to assist you in a customized plan and special order from over 100 vendors represented around the store. Of note, we are proud to feature LEE Industries upholstery and carry an array of their top fabrics to choose from.
Lighting & Artwork
BridgeHouse offers lighting options from many vendors, but it is the only Visual Comfort Lighting Gallery in Northwest Georgia. Since 1987, Visual Comfort & Co. has been the premier resource for signature designer lighting. BridgeHouse is also the only North Georgia gallery to feature Kim Gibbs Fine Art, Houston LLew Spiritiles and unique pieces by  local moss artist, Marv Barton.
Accessories & Gift
From decorative accents, such as coffee table books, handcrafted handkerchief vases, beautiful table settings and linens, to unique gifts such as personal fire pits, house blessing crosses, jewelry and candles - we can help you select the perfect accessory or gift for any occasion.
Rugs & Bedding
Whether you're looking for an indoor-outdoor rug for your mountain home or a hotel-style upgrade for your bedroom and bath - we have you covered. You will find a large selection of luxurious bed linens, towels, and bath accessories available in the store and by special order. We can help you design a beautiful, comfortable bedroom for you and your guests or add layers to your home with a statement rug.